Thursday October 27th, 2022 - 7:00PM
Artists Collective 1200 Albany Ave, Hartford, CT
The CT HALL OF CHANGE is designed to recoginze and memorialze formerly incarerated men and women who have made substantial contributions to their communities since their release. Along with the comedy show, there will be an art exhibit with all works done by formerly incarcerated artists. There will also be raffles, auction prizes, and more.

The Comedy Craft Beer Tour brings the best of Northeast comedy to local breweries, wineries, and any other venue that serves alcohol throughout New England and beyond for an evening that keeps the drinks flowing, and the laughs coming. This tour has been doing shows in Connecticut, New York, Rhode Island, Massachusetts, Maryland, for 7+ years, adding more, and more venues each year.

Our comics have done comedy all over the globe and now bring their experiences to some of the best local venues around for an intimate evening of laughs, drinks, food, and fun. We provide the absolute funniest comedy around, featuring comics w/ television and movie credits, who perform at the major clubs and festivals throughout the country, and are some of the brightest stars of today and tomorrow.All you need to do is get your tickets and join us for a show.

Tonights show features:
Ali Siddiq- Ali Siddiq is stand-up comedian, public speaker, and writer out of Houston. Ali's unique style of
stand-up began behind the walls of incarceration, an incubator for interesting experiences and
good stories.

People received their first taste of Ali Siddiq when he appeared on HBOs DEF COMEDY JAM and LIVE FROM GOTHAM, and in 2013 he was named Comedy Central & Comic to Watch. In 2014, Ali impressed comedy enthusiasts by displaying his ability to captivate an audience with his "Mexicans Got On Boots" tale, a descriptive storytelling, with over 15 million views, of a prison riot on THIS IS NOT HAPPENING, the first of three appearances. His stories continued with his HALF HOUR special, which premiered on Comedy Central in the fall of 2016. Immediately following the premier of that special, Comedy Central offered Ali an hour- special where he performed for inmates live in a Texas jail, sending Ali back to where it all started. The hour special, Ali Siddiq: It's Bigger Than These Bars, premiered in February 2018 on Comedy Central. In 2019, Ali could be seen as a Top 5 finalist on NBC's BRING THE FUNNY. Most recently, Ali could be seen as a guest on THE JOE ROGAN EXPERIENCE.

And More!!!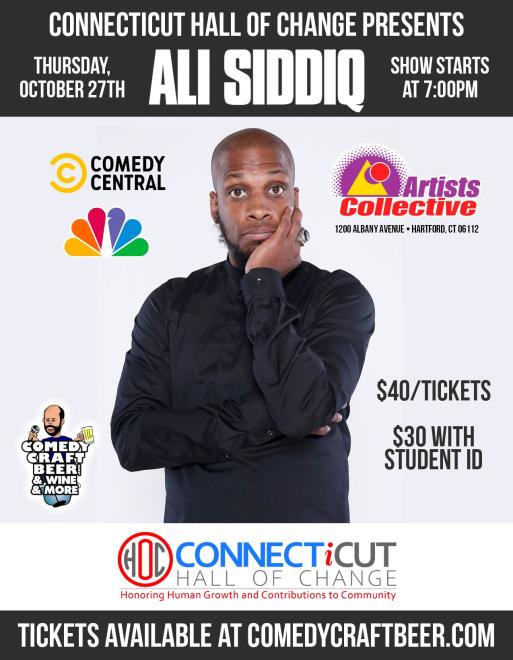 Requirements :
ALL SALES ARE FINAL