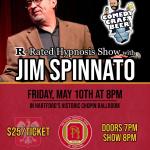 BUY TICKETS
Friday May 10th 08:00PM - Hartford's Historic Chopin Ballroom, Hartford, CT
R-Rated Comedy Hypnosis w/ Jim Spinnato
Hartford's Historic Chopin Ballroom welcomes New England's premier stage hypnotist and comedian Jim Spinnato. Sit back and relax as he hypnotizes fellow audience members, creating hysterical R-rated situations and provides laughs for all. Headliner Jim Spinnato is an accomplished stage hypnotist who has been entertaining crowds since the mid-1990's. He has performed up and down the East Coast for corporate events, college crowds and at casinos. He is the resident hypnotist at Comix Mohegan Sun and is heading into his 10th year doing his monthly hypnosis show at Mohegan Sun -- Spinnato is known for his combination of music, comedy, hypnosis and audience participation; creating one not-to-be-missed show. Showtime 8pm Doors 7pm Restaurant is open all day. Show tickets for a discount on dinner. Directions and parking guide available on our website at http://polishhomect.org/find-us/ Free on-site parking and open to the public. #HartfordPNH and #comedycraftbeer to let us know you're coming!!!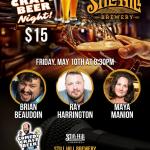 BUY TICKETS
Friday May 10th 08:30PM - Still Hill , Rocky Hill, CT
Still Hill Comedy Craft Beer Night
New England's best comics get paired with the areas finest craft beers in this hilarious and delicious show. Come laugh with some of the best comics from all over the North East and wash it down with a pint...or four. The Comedy Craft Beer Show is always a good way to Live, Laugh, and Drink so join us for an unforgettable evening. Tonight's Show Features: Ray Harrington Brian Beaudoin Maya Manion